The terror war waged by the LTTE for more than three decades took a heavy toll on civilians. Innocent civilians, including women, children, the elderly and the clergy were hacked to death and killed in indiscriminate terrorist blasts and raids.
The number of people killed in this senseless armed struggle waged by the LTTE exceeds more than 100,000 in terms of a conservative estimate. There is no proper estimate as to how many people were wounded or mentally traumatized.
The Sunday Times has prepared a chronology of events highlighting some of the most barbaric attacks on civilians and assassinations of Tamil politicians, intellectuals and government officials. On this list of terror victims were two state leaders — President Ranasinghe Premadasa and Indian Premier Rajiv Gandhi.
In some of the attacks targeted at politicians, it was the civilians who were killed while in other attacks several civilians also died along with the politician or military officials the Tigers targeted. The chorology also includes some of the attacks on economic targets.
Tamil politicians and officials assassinated by the LTTE
| | | | | |
| --- | --- | --- | --- | --- |
| | | | | |
| Lakshman Kadirgamar | Neelan Thiruchelvam | A Thangathurai | A T Duraiyappah | A Amirthalingam |
2005 August 12: Minister of Foreign Affairs Lakshman Kadirgamar assassinated in Colombo.
1999 July 29: Dr. Neelan Thiruchelvan, TULF MP
1998 September 11: Ponnuyhurai Sivapalan, Jaffna Mayor
1998 May 16: Sarojini Yogeswaran, TULF Mayor of Jaffna
1997 October: S.P. Dharmalingam, SLFP organizer for Jaffna
1997 July 5: A. Thangathurai, TULF MP for Trincomalee
1990 June 19: K. Pathmanabah, Leader of EPRLF (together with all but one member of the party's politburo)
1990 June 19: V Yogasangari, EPRLF MP in Madras
1990 May 7: Sam Thambimuttu, EPRLF MP and his wife.
1990 January 28: Ganeshalingam, ex EPRLF Provincial Council Minister for North and East
1990 January 28, Dr. (Mrs) Rajini Thiranagama , Human rights activist and lecturer in Anatomy at the University of Jaffna and Co-author of the book 'Broken Palmyrah"
1989 July 16: PLOTE leader Uma Maheswaran
1989 July 13: V. Yogeswaran, ex-TULF MP for Jaffna
1989 July 13: A. Amirthalingam, Leader of the TULF
1989 June 28: K. Pullendran, Assitant Government Agent, Kopay
| | |
| --- | --- |
| | |
| Rajini Thiranagama | Uma Maheswaran |
1989 May 1: V.M. Panchalingam,Government Agent, Jaffna
1989 March 7:S. Samabandamoorthy, ex-TULF chairman, District Development Council, Batticoloa
1988 October 27: Raj Shankar, President, Citizen's Committee, Tennamarachchi
1988 June 6: Rev. Fr. Chandra Fernando, President, Citizen's Committee, Batticoloa
1988 March 28: Velmurugu Master,TULF organizer and Citizen's Committee member, Kalmunai
1988 March 8: S. Wijeyanandan, District Secretary, Ceylon Communist Party
1988 January 13: S. Siththamparanathan, principal, Wigneswara Vidyalaya, Trincomalee
1987 December 14: M.E. Kandasamy, Principal, Palugamam Maha Vidyalaya
1987 October 8: S.S. Jeganathan, Assistant Government Agent, Batticoloa
1987. October 8: Anthonimuttu, Government Agent, Batticaloa
1987 September 15: Vignarajah, Assistant Government Agent, Sammanthurai
1986 May 6: TELO leader Shri Sabaratnam in Kondavil Jaffna
1986 September 26: Kathiramalai, Sarvodaya leader
1986 March 11: P. Kirubakaram , Primary Court Judge
1985 September 2: Alalasunderam, ex-TULF MP for Kopay
1985 September 2: V. Dharmalingam, ex-TULF MP for Manipay and father of D. Siddharthan, Leader of PLOTE
1985 August 22: P. Thambipillai, president, Citizen's Committee Oddusudan
1985 June 26: C.E.Anandarajah, Principal St. John's College, Jaffna.
1985 February 24: Gnanachandiram, ex District Judge, Point Pedro and Government Agent, Mullaitivu
1983 September 1: Mala Ramachandran, UNP MMC for Batticoloa
1983 August 12: A.J. Rajasooriya, UNP organizer for Jaffna
1983 January 19: K.T. Pulendran, UNP organizer for Vavuniya
1981 May 25: Member of Parliament of the Vaddukoddai electorate A. Thiyagaraja
1975 July 27: Jaffna Mayor, Alfred Duraiappah.
Brutal civilian massacres
2009 April 22: Sixteen civilians were killed in Karametiyawa, Inginiyagala.
2008 February 03: At least seven people died and 97 were injured in a suicide bomb attack at the Fort Railway station.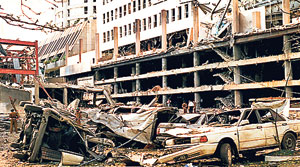 Central Bank blast
2008 June 06: Twenty one passengers died in a claymore attack on a bus in Katubedda Moratuwa.
2008 April 25: Twenty four civilians were killed in a parcel bomb explosion inside a bus in Pliyandala
2008 January 16: Twenty seven passengers perished in an attack on a bus in Buttala.
2007 November 28: Seventeen civilians were killed and 37 injured in a parcel bomb explosion at a Nugegoda shop.
2007 January 06: Fifteen civilians were killed and 40 wounded in a parcel bomb explosion inside a bus at Seenigama, near the Kahawa junction, Galle.
2006 July 15: Sixty seven passengers were killed and 90 injured in a claymore mine attack on a bus in Kebithigollewa.
2006 April 23: Six farmers were killed in the Polonnaruwa district
2006 May 29: Thirteen labourers were killed in the Polonnaruwa district
2001 July 24: Attack on the Bandaranaike International Air Port. Twelve people died and 13 aircraft destroyed.
2000 October 5: At least 12 persons were killed and more than 40 wounded when an LTTE suicide bomber blew himself up in an attempt to enter a PA election rally.
2000 March 10: At least 14 civilians and six police personnel were killed and 46 people were injured when a group of five suicide cadres attacked a motorcade on the road to Parliament at Rajagiriya.
2000 January 5: A female suicide bomber exploded herself while she was being body searched by Police near the Prime Minister's Office in Colombo. Thirteen civilians and three police officers were killed and 27 people wounded in the blast.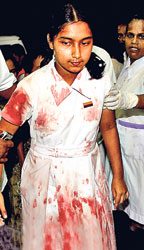 Piliyandala bus blast
1999 December 18: A suicide bomber, detonates a bomb strapped to his body, killing retired Major General Lakshman Algama and 11 persons at a United National Party (UNP) election rally at Ja-Ela in Colombo.
1999 September 18: Fifty civilians were killed in an attack in Gonagala.
1998 March 5: Thirty-six civilians and two police officers were killed and 270 civilians wounded when a mini-bus, filled with explosives, was blown up by a suicide bomber near the Maradana Police Station in Colombo.
1998 February 23: At least 51 troops and 28 civilians were killed in a suicide attack on the Point Pedro coast when eight Tiger boats laden with explosives crashed into two navy ships.
1998 January 25: A suicide bomber blasted a lorry-laden with explosives at the Dalada Maligawa. Sixteen persons were killed while extensive damage was caused to the Maligawa, a cultural heritage site recognised by the UNESCO.
1997 October 15: Suicide bombers detonated a truck packed with explosives in the parking lot at Galadari Hotel close to the World Trade Center in Colombo, killing 18 people and injuring at least 110 others.
1996 July 24: Bomb explosion on Colombo-Alutgama train at Dehiwala killed 60 civilians.
1996 April 18: The naval wing of the LTTE, Sea Tigers, launched a suicide raid on the port of Colombo. Nine LTTE cadres were killed when the troops blew up their boats.
1996 January 31: A suicide bomber detonated a truck loaded with more than 100 kilograms of explosives in front of the Central Bank in Colombo killing 91 people and wounding at least 1,400 others.
1995 November 24: Sixteen civilians were killed and over 50 injured when two women suicide cadres targeted the Army headquarters.
1995 November 11: Seven persons including 15 children were killed when a female suicide bomber exploded herself near the Kompannaveediya Railway Station in Colombo.
1995 October 26: Twenty six villagers were killed in Kebithigollewa.
1995 October 21: Sixty six villagers were killed in attacks in Ampara, Polonnaruwa and Anuradhapura.
1995 August 7: A male suicide bomber set off a cartload of explosives at Independence Square in Colombo, killing 22 people and injuring more than 40 others.
1995 May 25: Forty two civilians were massacred in Kallarawa.
1992 October 15: Massacre of 146 Muslim civilians in Palliyagodella.
1992 April 29: Some 130 Muslim civilians were massacred in the Alanchipothana village in the east.
1990 August 3: An LTTE gang killed 103 civilians in Kathankudy.
1987 July 02: The massacre of 32 Buddhist monks at Aranthalawa.
1987 April 21: One hundred and fourteen civilians killed in a bomb explosion near the Pettah bus stand in Colombo
1986 May 30: An explosion at Ceylon Cold Stores in Kompannaveediya killed eight civilians and wounded 22.
1985 May 14: The LTTE carried out an attack on the Jaya Shri Maha Bodhiya in Anuradhapura, killing 120 civilians. The attackers while they were fleeing also killed 18 civilians in Wilpattu.
1984 Nov. 30: Sixty two civilians were killed in attacks on the Dollar and Kent Farms
1976 July 02: A fuel station manager, S. Nadaraja, was shot dead as he was believed to be an army informant.
Tamil militancy: The beginning
The Tamil Youth Front (TYF) was formed through the initiative of the leader of the Tamil United Liberation Front (TULF) A. Amirthlingam for the purpose of assisting the then Tamil United Front (TUF). On a statement given to the Police by S.Pushparaj one of the two youth leaders instrumental in the formation of the TYF, their assistance was to include assistance through voice.
Later Pushparaj and his loyalists, unhappy with the TUF's non committal support towards violence as a means to achieve their ends, broke away and formed a splinter Ela Viduthalai Eyakkam (the Tamil Eelam Liberation Organisation) – the TELO. Several other members of the TYF then also discarded whatever democratic approach they had. They went onto form more militant organizations such as the Tamil New Tigers (TNT), and the Liberation Tigers of Tamil Eelam (LTTE).
Some of the terrorist incidents where foreigners were killed

Former Indian Prime Minister Rajiv Gandhi
2003 March 20: Attack and capture of Chinese "Shu- Yun" trawler- 20 of the ship-crew died. 1991 May 21: Former Indian Prime Minister Rajiv Gandhi and 17 Indians were killed in South India.
1987 -1990: More than 1,000 Indian Peace Keeping soldiers died in northern and eastern provinces of Sri Lanka.
1986 May 3: Thirteen foreigners were among 16 people killed when the terrorist exploded an Airlanka Tristar plane at Katunayaka.
1984: Forty passengers were killed in bomb explosion at the Chennai airport.
Politicians killed by the LTTE
In many of these attacks a large number of civilians were also killed. 2008 October 06: More than 25 civilians, including Maj Gen Janaka Perera, were killed in an LTTE suicide bomb attack in Anuradhapura
2008 April 06: Minister Jeyaraj Fernandopulle and 12 others were killed in an LTTE suicide bomb attack in Weliweriya.
| | | | | |
| --- | --- | --- | --- | --- |
| | | | | |
| Janaka Perera | Jeyaraj Fernandopulle | Gamini Dissanayake | Ranjan Wijeratne | R Premadasa |
2000 June 7: A suicide bomber killed Minister C. V. Gooneratne and 24 civilians whilst he was in a procession organised to mark 'war heroes' day at Golumadama Junction in Ratmalana.
1995 May 26: The chief incumbent of the Dimbualagala temple Ven Kithalagama Shri Seelalankara thera was killed.
1994 October 24: Opposition leader and United National Party presidential candidate Gamini Dissanayake and 58 persons, including several senior politicians, were killed by a female suicide bomber at Thotalanga in Colombo.
1993 May 1: President Ranasinghe Premadasa and 23 others were killed by a suicide bomber in Colombo.
1991 May21: A female suicide bomber killed India's former Prime Minister Rajiv Gandhi while he visited the southern Tamil Nadu state for an election rally at Sriperumputhur.
1991 March 2: Deputy Defence Minister Ranjan Wijeratne and 18 people were killed in a blast at Havelock Road in Colombo.
The sequence of major events weeks before the 1983 July riots
1983 June 1: Murder of two airmen at Vavuniya when a hand-bomb was thrown inside a jeep. The Vavuniya police had arrested some of the guerrillas believed to have been from the Uma-Maheswaran led PLOTE.
1983 June 4: Murder by shooting of S. Tilagar, a candidate of the recent local government elections.
1983 June 9: An unidentified body found, shot in the head, believed to be another summary execution, in Point Pedro.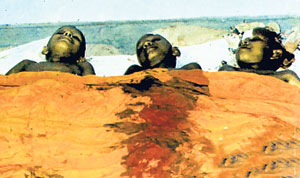 Aranthalawa blast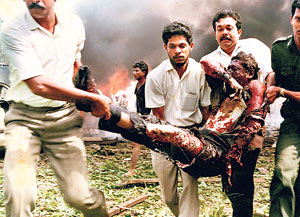 JOC blast
1983 June 11: Three similar unidentified bodies found at Mankulam.
1983 June 16: Army mobile patrol shot at in Nallur
1983 July 1: Attempted burning of a state bus at Kulappidi Junction.
1983 July 1: Burning of the "Yal Devi", the 10-carriage Colombo-Jaffna express.
1983 July 1: Burning of a state bus at Puttur junction.
1983 July 2: Burning of a state bus at Nelliady Town.
1983 July 3: Burning of state bus at Vaddukkodai junction.
1983 July 5: Attack on Post office in Jaffna.
1983 July 6: Attack on cement factory at Kankesanthurai.
1983 July 6: Unknown youths held the Additional Government Agent, three male clerks, two female clerks and two others at gun point at Thinnaveli and smashed up office equipment before leaving. They also dashed the photographs of the President, the Prime Minister and the Tamil Home Minister on the road outside. They left a bomb behind which was defused by the Army.
1983 July 7: Damage caused to Suthumalai Post Office.
1983 July 8: Burning of a state bus at Chettikulam.
1983 July 9: Damage caused to Inuvil Post office.
1983 July 23: Ambush of one officer and 12 soldiers of the Army at Thinnaveli which sparked off the intense rioting in the South.
Failed attacks on political and military targets – with civilian casualties
In some of the attacks targeting military officials or politicians, the LTTE missed the target, but a large number of civilians were killed. Following is a list of such attacks.
2009 March 10: Minister Mahinda Wijesekara was seriously injured in a suicide bomb attack at the National Meelad Festival in Akuressa. Ten civilians were killed and 60 others wounded in the blast.
2008 October 09: Minister Maithripala Sirisena survived an LTTE suicide attack at Katuwawala in Piliyandala, but five civilians died.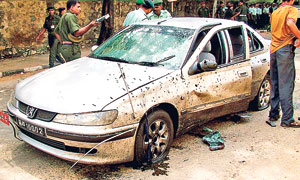 Bomb blast attempted at Army Commander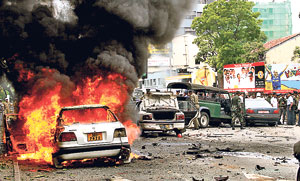 Piththala Handiya blast aimed at Gotabhaya Rajapaksa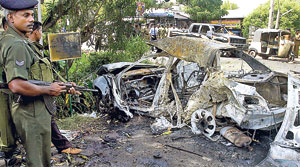 Pannipitiya blast which killed Deputy Chief of Staff of the Army, Major General Parami Kulathunga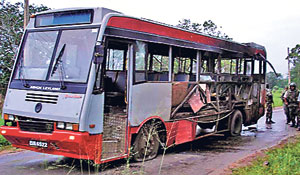 2007 January 28: A female LTTE suicide bomber targeting Eelam People's Democratic Party (EPDP) leader and Social Services Minister Douglas Devananda blew herself up. The minister escaped but the blast killed his Public Relations Officer.
2006 December 01: Defence Secretary Gotabhaya Rajapaksa escaped an LTTE suicide attack in which six people, including his bodyguards, were killed.
2006 August 14: In a suicide blast targeting the then Pakistani High Commissioner Bashir Wali Mohammad seven people died.
2006 April 25: Army Commander Sarath Fonseka was wounded in a suicide blast inside the Army headquarters. The attack was carried out by an LTTE female cadre who posed off as a pregnant woman. Nine people, including civilians, were killed.
2001 October 29: Prime Minister Ratnasiri Wickremanayake escaped an assassination attempt when police intercepted a would-be suicide bomber who detonated explosives strapped to his body, killing himself and five others.
2004 July 07: In Colombo, five policemen were killed when a suspected LTTE woman suicide bomber blew herself up inside the Kollupitiya police station after she was arrested at Minister Douglas Devananda's office.
2000 September 15: Seven people were killed and 28 others sustained injuries when a suicide bomber, on being detected, blew himself up. Health Minister Nimal Siripala de Silva had a narrow escape as he had passed through the site barely seven minutes before the blast.
December 18, 1999: President Chandrika Kumaratunga was wounded and 21 were killed and more than 100 people injured at a presidential election campaign rally in Town Hall, Colombo.
1997 December 28: Three suicide bombers died when their truck exploded half a mile from the Magalle naval base in the Galle District where Navy Commander Cecil Tissera was staying. Ten shops and two houses were damaged.
1996 July 4: At least 20 people, including Jaffna military commander Brig. Ananda Hamangoda, were killed and 60 injured when a female suicide bomber blew herself up. Minister Nimal Siripala de Silva escaped with minor injuries.